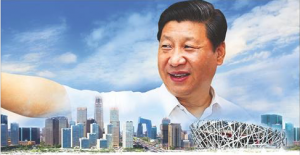 ---
By Jeff J. Brown
Downloadable SoundCloud podcast (also at the bottom of this page), as well as being syndicated on iTunes and Stitcher Radio (links below):

[dropcap]M[/dropcap]y esteemed guest and China guru, Dr. Godfree Roberts, makes some bold predictions in this captivating and funny conversation. It is all about the big summit meeting between Presidents Xi Jinping of China and Donald J. Trump of the United States, starting tomorrow in Beijing.
How will it all shake out? What promises will be made? Who will the Western mainstream media declare is "the winner", which empire always feels compelled to do, when it comes to international relations and diplomacy. Or will the results end up being "Sino-win-win cooperation", and both men are able to shake hands and have no regrets?
Join Godfree and me, as we peer into his magical, all seeing, Yin Yang crystal ball.
During the interview, it was announced that Godfree will be publishing his next book, China 2020: Everything You Know Is Wrong, coming out early next year.
He also highly recommended the following book, Debt: The First 5,000 Years, by David Graeber.
https://www.amazon.com/gp/product/1612194192/
Erratum: During the interview, I misspoke about Obama quoted as saying he didn't want to end up like John F. Kennedy. Staying color coordinated, he actually said he didn't want to end up like Martin Luther King, Jr. Same difference. They and Robert F. Kennedy were murdered by their own government. Read all the sordid and researched details in my book, China Rising, listed below, which includes the confirmed Obama story…
Postscript: As Trump's plane arrives to Beijing in just a few hours, he said the following, as he was leaving Seoul, Korea for Beijing,
Xi has been very helpful. We'll find out how helpful soon. But he really has been very, very helpful.
This suggests that a lot of work has gone on between Xi's and Trump's country teams, before this visit. Much has already been decided and Trump is going to Beijing to officialize the agreements and deals, and to sign all the documents with Xi.
With trashy articles by CFR members, as mentioned in the our interview (https://www.politico.com/magazine/story/2017/11/05/7-dos-and-donts-for-trumps-china-trip-215788), more dead end quotes from Brookings Institution "experts" (http://www.latimes.com/politics/la-na-pol-trump-xi-20171107-story.html) and Amcham officials (http://www.globaltrademag.com/in-the-news/trump-china-prepared-trade-talks), one observation is crystal clear. Trump and Tillerson have completely sealed themselves off from the Department of State and Department of Commerce. Why? Because they are seething viper pits of Bush-Clinton-Obama deep state saboteurs who are working overtime to destroy Trump and his outsider agenda.
Love him or hate him, Trump has turned the corrupt Washington establishment upside down.
---
If you find China Rising Radio Sinoland's work useful and appreciate its quality, please consider making a donation. Money is spent to pay for Internet costs, maintenance, the upgrade of our computer network, and development of the site.
Or better yet, buy one of Jeff's books offered below.
---
Why and How China works: With a Mirror to Our Own History
---
ABOUT JEFF BROWN
JEFF J. BROWN, Senior Editor & China Correspondent,  Dispatch from Beijing
Jeff J. Brown is a geopolitical analyst, journalist, lecturer and the author of The China Trilogy. It consists of 44 Days Backpacking in China – The Middle Kingdom in the 21st Century, with the United States, Europe and the Fate of the World in Its Looking Glass (2013); Punto Press released China Rising – Capitalist Roads, Socialist Destinations (2016); and for Badak Merah, Jeff authored China Is Communist, Dammit! – Dawn of the Red Dynasty (2017). As well, he published a textbook, Doctor WriteRead's Treasure Trove to Great English (2015). He is also currently penning an historical fiction, Red Letters – The Diaries of Xi Jinping, to be published in late 2018. Jeff is a Senior Editor & China Correspondent for The Greanville Post, where he keeps a column, Dispatch from Beijing. He also writes a column for The Saker, called the Moscow-Beijing Express. Jeff interviews and podcasts on his own program, China Rising Radio Sinoland, which is also available on SoundCloud, YouTube, Stitcher Radio and iTunes.
In China, he has been a speaker at TEDx, the Bookworm and Capital M Literary Festivals, the Hutong, as well as being featured in an 18-part series of interviews on Radio Beijing AM774, with former BBC journalist, Bruce Connolly. He has guest lectured at the Beijing Academy of Social Sciences and various international schools and universities.
Jeff can be reached at China Rising, jeff@brownlanglois.com, Facebook, Twitter and Wechat/Whatsapp: +86-13823544196.
---
For Jeff J Brown's Books, Radio Sinoland & social media outlets

Podcast: Play in new window | Download