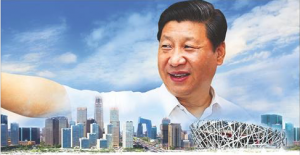 ---
By Jeff J. Brown
Above: there's gold (and silver) in them there Chinese banks, Jethro! A China Construction Bank (CCB) banner ad for Year of the Dog themed gold items to buy, in Shenzhen's busiest metro station.

Downloadable SoundCloud podcast (also at the bottom of this page), as well as being syndicated on iTunes and Stitcher Radio (links below):


[dropcap]B[/dropcap]aba Beijing is trying really hard with policies, laws, regulations and propaganda to increase the people's consumption levels. It is working well, as this graph below shows,
Much of this rising consumer spending is due to the Chinese getting increasingly richer since liberation in 1949. This includes the poor and farm people, for whom in 2016, rural income increased 47% year-on (http://en.people.cn/n3/2017/1215/c90000-9305081.html). This is due to Baba Beijing's no-other-place-on-earth campaign to not just reduce, but completely eliminate extreme poverty by 2020, and it is getting accomplished ahead of schedule (http://chinarising.puntopress.com/2017/11/19/china-versus-the-west-another-shocking-comparative-vignette-china-rising-radio-sinoland-171119/). Not to mention that as a communist-socialist economy, these poor and rural people most likely own their own home,
This, while many millions of Americans have lost their homes, since 2008 (http://www.ncpa.org/sub/dpd/index.php?Article_ID=25643). I can personally attest. We lost ours in Oklahoma in 2010. While my wife and younger daughter fled to France to prepare for our second move back to China, I lived in a car for two months and met other families, with children living in their vehicles, camped out in truck stop parking lots. The American dream as reality TV, live, in my face. I'd much rather be a poor Chinese citizen. They have dignity and respect. They have universal health care too. While their life expectancy continues to climb, Americans' is declining (https://www.washingtonpost.com/national/health-science/us-life-expectancy-declines-for-the-first-time-since-1993/2016/12/07/7dcdc7b4-bc93-11e6-91ee-1adddfe36cbe_story.html?utm_term=.d5af3fa0c1da).
In spite of all this spending, the Chinese cannot stop saving, a habit they have developed as second nature, for the last 5,000 years. A lot of this goes back to Confucian, Daoist and Buddhist morals, to live frugally and humbly. Even as the Chinese have gotten richer, their savings habit remains intact,
On a household disposable income basis, no other people in a large economy can compare to the Chinese's wealth management,
In exchange rate dollar terms, China eclipsed the US in national savings in 2008 and has never looked back. If this chart were done in purchasing power parities (PPP), it would be twice what is shown,
Need I mention that almost all of US savings is going to the top 10% (https://www.financialsamurai.com/the-average-savings-rates-by-income-wealth-class/)? The bottom 90% really don't save much at all.
Living in China for a total of 14 years, I see the Chinese's savings habit everywhere I go. So, what do they put their wealth into? One is precious metals. I went to a big international tea expo yesterday in Shenzhen. On the way, in the city's biggest metro station, Chegongmiao (means Waterwheel Public Temple), China Construction Bank (CCB) is putting on an advertising blitz to buy gold for the Chinese New Year, coming up next month. Never heard of CCB? It's only the second biggest bank in the world, among the top four, which are all Chinese (https://accuity.com/resources/bank-rankings/), and all people-owned by Baba Beijing.
In the Chinese zodiac, 2018 is the Year of the Dog (http://chinarising.puntopress.com/2016/03/03/chinese-lunar-and-agricultural-calendars-explained-a-china-rising-radio-sinoland-cultural-special-edition/). So, no surprise that the theme to buy gold is canine all the way. Arf, arf, Fido, go fetch that ingot! Precious pooch metals.
As you can see in the following photos, Chinese banks offer a dizzying array of designs and motifs for consumers to choose from: ingots – embossed and stylized; amulets, pendants, earrings, scrolls and brooches. The Chinese text says, CCB gold, your choice in gold. However, I can go into any bank in China and buy the same wide selection of products in pure silver.
CCB ads covering Shenzhen's biggest metro station, to buy gold.

Interestingly, this big gold buying campaign only covered half of this monster metro station. The other half was wall to wall banners by China Life Insurance Company, a people owned and Fortune Top 100 corporation; of course, life insurance being another prudent way to save money and plan for the future.
At the tea expo, I was blown away by all the high-quality tea and Chinese culture goods for sale. Up to $50,000 for hand carved furniture, tea settings, ceramics, porcelain, jewelry, sculptures, paintings, calligraphy, silk and embroidered clothing. Basically, all the high value goods that the Chinese have been exporting to rest of the world for five millennia, especially via the Silk Roads. These eye-catching goods were way out of my league, but were fun to ogle at, in any case. The French have a great term for it, la lèche-vitrines, which means to lick the (store) windows. I did a lot of window licking while there. Everything I saw was a potential savings repository and the place was packed with Chinese savers.
Several exhibitors had magnificent, pure silver teapots costing thousands of dollars each. Most of the value lies in the celebrity of the artist-silversmiths, since each one is hand cast, hammered, carved and formed. They are a great savings tool using silver as an investment.
One exhibitor displayed antique tea. It had two stern looking security guards outside, giving you an idea of the valuables inside. Like wine, tea can go up in value as it gets older. My wife and I learned this when we went to Puer Tea Country in Xishuangbanna, Yunnan Province over Chinese National Day holiday in October. The worker at the organic tea plantation we visited explained how the Chinese buy tea when their children are born, to give to them when they get married, to either consume, but just as likely, keep as a savings asset for a rainy day, or to pass on to the grandchildren, depending on the need.
Below are some of the antique teas that were for sale, going back to the 19th century. Each one of the tea bricks can sell for many thousands of dollars.
In the antique tea exhibit were also collectible posters. Revolutionary posters that were printed after liberation are another popular form of investment for savings. Both posters are about tea culture and have a special cachet, since they invoke a famous quote by Mao Zedong, during the Cultural Revolution,
More and more tea plantations will be pioneered on the mountainsides.
The tea plantation we visited in Yunnan was planted on virgin mountains, back in the early 1950s. There is a whole chapter on China's revolutionary art and another one on the Cultural Revolution in Book #3 of The China Trilogy. Mao gets a nice chapter in Book #2. (http://chinarising.puntopress.com/2017/05/19/the-china-trilogy/).
I also see the Chinese investing their savings in calligraphy, paintings and art objects (all discussed in Book #3 of The China Trilogy). Even middle class, workaday folks buy lower cost works, banking on them to go up in value over time. Below is a photo from a current painting/calligraphy collection on display at the Shenzhen Municipal Museum. Some of these date back centuries. The second photo shows bronze pieces from a simultaneous museum exhibit, dating back to the Zhou Dynasty, 700-1,000 BC.
From gold, silver, and tea to art and collectibles, the Chinese live the important habit of saving, something profligate Westerners could learn from. Ready to cut up your credit cards, lead a life of Confucian-Daoist-Buddhist delayed gratification, and start buying gold, silver or tea?
Want to learn more? Read "The China Trilogy", to understand your world & where you are headed into the 21st century. You will be so glad you did (http://chinarising.puntopress.com/2017/05/19/the-china-trilogy/).
Let's close out today's article and podcast with some perfectly themed music for the winter holiday season. Presented is Tea (Chinese Dance), in The Nutcracker Suite, by Pyotr Il'yich Tchaikovsky. It is performed by the renowned Russian Mariisnky Ballet, hailing from Saint Petersburg. Thus, we can have the guilty double pleasure of getting a Pavlovian response of revulsion among all the people in Eurangloland, who have been brainwashed by Western propaganda into baselessly hating Russia and fearing Russians. Until these misinformed souls see the light of truth and reason, enjoy the show and the schadenfreude.
Speaking of misguided citizens, sharing is caring. Please tell your family, friends and colleagues about China Rising Radio Sinoland (www.chinarising.puntopress.com – @44_Days – https://www.facebook.com/44DaysPublishing) and post, share and follow it on all your social media.

If you find China Rising Radio Sinoland's work useful and appreciate its quality, please consider making a donation. Money is spent to pay for Internet costs, maintenance, the upgrade of our computer network, and development of the site.
Or better yet, buy one of Jeff's books offered below.
---
Why and How China works: With a Mirror to Our Own History
---
ABOUT JEFF BROWN
JEFF J. BROWN, Senior Editor & China Correspondent,  Dispatch from Beijing
Jeff J. Brown is a geopolitical analyst, journalist, lecturer and the author of The China Trilogy. It consists of 44 Days Backpacking in China – The Middle Kingdom in the 21st Century, with the United States, Europe and the Fate of the World in Its Looking Glass (2013); Punto Press released China Rising – Capitalist Roads, Socialist Destinations (2016); and for Badak Merah, Jeff authored China Is Communist, Dammit! – Dawn of the Red Dynasty (2017). As well, he published a textbook, Doctor WriteRead's Treasure Trove to Great English (2015). He is also currently penning an historical fiction, Red Letters – The Diaries of Xi Jinping, to be published in late 2018. Jeff is a Senior Editor & China Correspondent for The Greanville Post, where he keeps a column, Dispatch from Beijing. He also writes a column for The Saker, called the Moscow-Beijing Express. Jeff interviews and podcasts on his own program, China Rising Radio Sinoland, which is also available on SoundCloud, YouTube, Stitcher Radio and iTunes.
In China, he has been a speaker at TEDx, the Bookworm and Capital M Literary Festivals, the Hutong, as well as being featured in an 18-part series of interviews on Radio Beijing AM774, with former BBC journalist, Bruce Connolly. He has guest lectured at the Beijing Academy of Social Sciences and various international schools and universities.
Jeff can be reached at China Rising, jeff@brownlanglois.com, Facebook, Twitter and Wechat/Whatsapp: +86-13823544196.
---
For Jeff J Brown's Books, Radio Sinoland & social media outlets

Podcast: Play in new window | Download
Subscribe: RSS