NOW IN 22 DIFFERENT LANGUAGES. CLICK ON THE LOWER LEFT HAND CORNER "TRANSLATE" TAB TO FIND YOURS!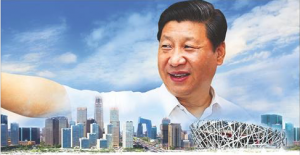 By Jeff J. Brown
Pictured above: the Tianjin explosion has been estimated to be anywhere from 20-200MT of TNT, with some estimates up to 700MT. It actually created a mushroom cloud and two earthquakes. As information filters out and in, it will be interesting to find out what really caused this incredible tragedy: negligence or sabotage? (Image by local Tianjin CCTV).

---
Thousands of dollars are needed every year to pay for expensive anti-hacking systems, controls and monitoring. This website has to defend itself from tens of expert hack attacks every day! It's never ending. So, please help keep the truth from being censored and contribute to the cause.
Paypal to jeff@brownlanglois.com. Thank you.
---
Do your friends, family and colleagues a favor to make sure they are Sino-smart:
Journalism: https://chinarising.puntopress.com/blog-2/
Books: http://chinarising.puntopress.com/2017/05/19/the-china-trilogy/ and
https://chinarising.puntopress.com/2018/06/18/praise-for-the-china-trilogy-the-votes-are-in-it-r-o-c-k-s-what-are-you-waiting-for/
Website: www.chinarising.puntopress.com
Twitter: https://twitter.com/44_Days
Facebook: https://www.facebook.com/44DaysPublishing
VK: https://vk.com/chinarisingradiosinoland
About me: https://chinarising.puntopress.com/about-the-author/
Sixteen years with the people on the streets of China, Jeff
Downloadable SoundCloud podcast (also at the bottom of this page), YouTube video, as well as being syndicated on iTunes, Stitcher Radio, RUvid and Ivoox (links below),

Editor's note: this article was updated and corrected from the original, with more recent information available.
 
 
This has not been reported much in the West, but I just read in the Chinese news that the massive, multi-ton chemical explosion at Tianjin Port on August 12th, shut down China's second fastest supercomputer, the Tianhe-1. It is located in China's National Supercomputing Center, not far from Tianjin Port. Apparently the supercomputer was not physically damaged, but the huge refrigeration system used to keep it cool enough to run was knocked out, as well as the emergency backup power was taken out. The article said that the computer will be re-started and the "brains" gradually recovered, suggesting that there may have been circuit damage with the simultaneous loss of the electrical generators and the refrigeration system. This article was dated August 17th, meaning that Tianhe-1 has been KO'd for at least five days already.
 
The Tianhe-1 is a monster. It is capable of crunching 2.566 petaFLOPS of data, it was the fastest computer in the world from October 2010 to June 2011 and is one of the few Petascale supercomputers in the world. It has since been superseded by China's Tianhe-1A and Tianhe-2. China continues to rival the United States in supercomputer capacity and speed. Every few months, one beats the other's newest record.
 
Super computers are used extensively for spying, military applications and data gathering, like what America's 16 intelligence agencies do around the world, and surely China's Ministry of State Security joining the fray.
Whether this was incidental to the explosion or from a sabotage angle, as a possible target is anyone's guess at this point. The internet has a number of speculations that the explosion was perpetrated by outsiders (read Western blackops/false flags). The fact that China is hosting one of its biggest public-diplomatic events ever, in a couple of weeks, makes the speculation more thought provoking, as a way to tarnish China's big September 3rd military parade. This massive display of force will be to celebrate the 70th anniversary of China's victory over Japanese aggression and world fascism. The parade is only being attended by one Western leader, Czech Republic's Miloš Zeman, with all the others boycotting it, Japan as well. Latest rumors are that South Korean President Park is coming to Beijing to celebrate, but it is not confirmed if she will sit at the parade [Editor's note, she came and sat next to President Xi and Putin, during the parade]. BRICS, SCO, EAEU and CSTO leaders are all expected to attend the parade, which comprise The Anti-West. Vladimir Putin will be sitting to President Xi Jinping's right that day, to reciprocate Xi's attendance at Russia's May 9th military extravaganza, to celebrate the crushing of Nazism in Europe.
There is historical precedence of the West trying to sabotage China's image before a big international event. The riots in Tibet, in March, 2008, just before the Beijing Summer Olympics, have been shown to have been planned, organized and bankrolled by America's CIA.
+++++

 
From the Chinese press. This schematic shows the Tianjin Port explosion had a radius of 2.5km, with a blast radius of one kilometer. The blast radius of the atomic bomb the United States dropped on Hiroshima in 1945 was 1.3 kilometers. (Image baidu.com)

 
From the Chinese press. The huge radius around ground zero of the Tianjin Port explosion looks like a nuclear bomb site. (Image by baidu.com)
 
The Tianjin explosion is estimated to be anywhere from 20 to 700MT of TNT. It was so powerful, it actually created a mushroom cloud and was likened to a nuclear explosion. It reportedly left a hole 400 meters wide and 7.5 meters deep, blasting away bedrock. The fact that the crater has filled up with ground water suggests this is true. This is totally unlike typical surface level explosions, since the blast force always takes the path of least resistance, which in this case was up and out into the atmosphere. The event also created Richter scale "earthquakes" of 2.3 and 2.9, since there were actually two big explosions one right after the other. Again, for surface level explosions, this is highly unusual, as seismographic readings typically only register when a detonation takes place underground, like in a mine explosion, or an subterranean nuclear bomb test.

 
The crater left by the Tianjin explosions (there were two, actually) is reportedly 400 meters across and 7.5m deep, well into bedrock, not just top soil. The fact that it has filled up with ground water suggests this is true. Seven and a half meters is two stories deep. Surface level explosions blow up and out into the atmosphere where resistance is least, not down into hard bedrock. Notice the fault lines around the edge, where the soil is caving into the hole. Craters created like this happen when the explosion occurs underground, or the ground is penetrated by an explosive device. (Image by baidu.com)
 
This one minute clip captured by an expat living in Tianjin shows just how powerful the two explosions were,

If you can't get YouTube, I uploaded it for you,
Here is a frame-by-frame explanation of the explosion,
As information filters out and in, over the weeks and months ahead, it will be interesting to find out what really caused this incredible tragedy: negligence or sabotage?
Why and How China works: With a Mirror to Our Own History

---
ABOUT JEFF BROWN
JEFF J. BROWN, Editor, China Rising, and Senior Editor & China Correspondent, Dispatch from Beijing, The Greanville Post
Jeff J. Brown is a geopolitical analyst, journalist, lecturer and the author of The China Trilogy. It consists of 44 Days Backpacking in China – The Middle Kingdom in the 21st Century, with the United States, Europe and the Fate of the World in Its Looking Glass (2013); Punto Press released China Rising – Capitalist Roads, Socialist Destinations (2016); and for Badak Merah, Jeff authored China Is Communist, Dammit! – Dawn of the Red Dynasty (2017). As well, he published a textbook, Doctor WriteRead's Treasure Trove to Great English (2015). Jeff is a Senior Editor & China Correspondent for The Greanville Post, where he keeps a column, Dispatch from Beijing and is a Global Opinion Leader at 21st Century. He also writes a column for The Saker, called the Moscow-Beijing Express. Jeff writes, interviews and podcasts on his own program, China Rising Radio Sinoland, which is also available on YouTube, Stitcher Radio, iTunes, Ivoox and RUvid. Guests have included Ramsey Clark, James Bradley, Moti Nissani, Godfree Roberts, Hiroyuki Hamada, The Saker and many others. [/su_spoiler]
Jeff can be reached at China Rising, jeff@brownlanglois.com, Facebook, Twitter, Wechat (Jeff_Brown-44_Days) and Whatsapp: +86-13823544196.
Read it in your language • Lealo en su idioma • Lisez-le dans votre langue • Lies es in deniner Sprache • Прочитайте это на вашем языке •

用你的语言阅读
---
Wechat group: search the phone number +8613823544196 or my ID, Jeff_Brown-44_Days, friend request and ask Jeff to join the China Rising Radio Sinoland Wechat group. He will add you as a member, so you can join in the ongoing discussion.
Podcast: Play in new window | Download
Subscribe: RSS