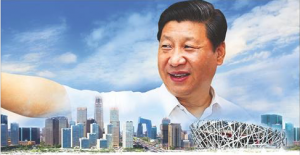 ---
By Jeff J. Brown
Later this week, I will be writing a full analysis of Xi Jinping's historic keynote speech that opened the Communist Party of China's 19th Congress. It is truly an open declaration of war against Western capitalism and its Orwellian "Rules-Based International Order" (sic). At least that is how imperial Washington-London-Paris will take it.
You got the scoop here. I managed to get a copy of the full speech in English, before it comes out officially on Xinhuanet, after the congress. Just click on the Chinese link below to get the PDF file opened or downloaded.
Much more later this week. Everything in the world will change after the 19th CPC Congress and knowing Baba Beijing, much faster than you think.
---
If you find China Rising Radio Sinoland's work useful and appreciate its quality, please consider making a donation. Money is spent to pay for Internet costs, maintenance, the upgrade of our computer network, and development of the site.
Or better yet, buy one of Jeff's books offered below.
---
Why and How China works: With a Mirror to Our Own History
---
ABOUT JEFF BROWN
JEFF J. BROWN, Senior Editor & China Correspondent,  Dispatch from Beijing
Jeff J. Brown is a geopolitical analyst, journalist, lecturer and the author of The China Trilogy. It consists of 44 Days Backpacking in China – The Middle Kingdom in the 21st Century, with the United States, Europe and the Fate of the World in Its Looking Glass (2013); Punto Press released China Rising – Capitalist Roads, Socialist Destinations (2016); and for Badak Merah, Jeff authored China Is Communist, Dammit! – Dawn of the Red Dynasty (2017). As well, he published a textbook, Doctor WriteRead's Treasure Trove to Great English (2015). He is also currently penning an historical fiction, Red Letters – The Diaries of Xi Jinping, to be published in late 2018. Jeff is a Senior Editor & China Correspondent for The Greanville Post, where he keeps a column, Dispatch from Beijing. He also writes a column for The Saker, called the Moscow-Beijing Express. Jeff interviews and podcasts on his own program, China Rising Radio Sinoland, which is also available on SoundCloud, YouTube, Stitcher Radio and iTunes.
Jeff can be reached at China Rising, jeff@brownlanglois.com, Facebook, Twitter and Wechat/Whatsapp: +86-13823544196.
---
For Jeff J Brown's Books, Radio Sinoland & social media outlets