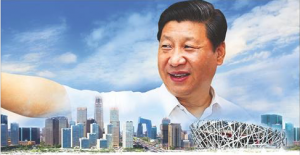 ---
By Jeff J. Brown
Pictured above: Baby Wang may be crying, but hundreds of millions of Chinese parents are even more upset by China's vaccine scandal. Corporate and government heads are going to roll, literally.
Downloadable SoundCloud podcast (also at the bottom of this page), YouTube video, as well as being syndicated on iTunes, Stitcher Radio, RUvid and Ivoox (links below),

[dropcap] I [/dropcap]n Book #1 of The China Trilogy (http://chinarising.puntopress.com/2017/05/19/the-china-trilogy/) 44 Days Backpacking in China- The Middle Kingdom in the 21st Century, with the United States, Europe and the Fate of the World in Its Looking Glass (https://ganxy.com/i/88276/), there is a chapter when I was traveling through Inner Mongolia, which inspired me to write about the 2008 melamine scandal in some of China's dairy products, since Mengniu is based there and is one of the two biggest Chinese dairy companies.
I pointed out that Baba Beijing reacted with force and determination. Several corporate directors at Mengniu and the other big dairy company, Yili, were executed – that's right, shot – and many went to prison for years.
I then compared China's handling of a public safety scandal to one of the most egregious in the West, Vioxx. Merck's "blockbuster" drug (meaning obscene profits at any cost) killed up to 500,000 innocent victims. This exposé is thanks to Ron Unz, which you can read here (http://www.theamericanconservative.com/articles/chinese-melamine-and-american-vioxx-a-comparison/ and http://www.unz.com/runz/american-pravda-mass-deaths-and-morning-newspapers/). Only 3,400 deaths were admitted to, an $8.4 billion fine was assessed, half of which went to the class action lawyers (can you believe that?) and likely doled out over decades; Merck's leaders never apologized and continued to make personal fortunes on their stock options and golden parachutes. Nobody spent a day in jail.
This, while a handful of children drank tainted milk and died in China, a couple of thousand more got sick and corporate heads literally rolled on the execution floor, with decades of hard time behind bars for the other culprits.
It's not like Vioxx was the first medical scandal to hit the headlines. They are ongoing and global (http://www.topmastersinpublichealth.com/10-biggest-medical-scandals-in-history/). I can still remember a friend in grade school in the early 1960s, who had a sibling with no arms, thanks to thalidomide.
The real problem is capitalism, where profits are god, so humanity and Mother Earth can go to hell for the bottom line. But, nobody wants to admit this truth, as it flies in the face of 500 years of Eurangloland's Greed Is Great and There Is No Alternative (TINA) propaganda. Planet Earth is going extinct clinging to this Big Lie.
Notice one of the scandals listed in the above article is about heparin adulteration in China, in 2008 (https://en.wikipedia.org/wiki/2008_Chinese_heparin_adulteration). Tens of people in the US died and hundreds were hurt. Why? Because of concerns about maintaining sales levels and profits. This caused a huge loss of face for the Chinese and Baba Beijing reacted with new regulations and inspections. The government attacked the problem.
This week, Chinese President Xi Jinping and Premier Li Keqiang have called for a thorough investigation, with consequences for the offenders, concerning a national vaccine scandal (http://en.people.cn/n3/2018/0724/c90000-9483871.html, https://www.scmp.com/news/china/policies-politics/article/2156431/chinese-premier-li-keqiang-promises-clean-vaccine). President Xi demanded severe punishment "to cure the chronic disease of corruption and rid this poison from our bones", and to resolutely "improve the supervision of vaccines and guard the bottom line of safety in order to safeguard public interest and social security". XJP called the production problem "hideous and appalling".
This, while Premier Li ordered zero-tolerance directives, saying, "No matter what companies or people are involved, severe punishment will be meted to all who violated safety standards and there will be no allowances; this case crossed a moral bottom line". He the head of China's State Council, the largest government administration in the world and it is going to investigate (http://www.chinadaily.com.cn/a/201807/26/WS5b58a64fa31031a351e9025a.html).
The Communist Party of China (CPC) Central Committee of Discipline Commission (CCDI) in Jilin, where the vaccine plant is located is setting up special teams to do their part (http://www.globaltimes.cn/content/1112227.shtml).
The vaccine company has been shut down for three months and 15 people who work there, including the chairman, have been arrested (http://www.globaltimes.cn/content/1112426.shtml).
Baba Beijing is going to make sure this does not happen again, by launching a nationwide investigation of all the country's vaccine manufacturers (http://www.globaltimes.cn/content/1112602.shtml).
All of this happened in one week… No need for years of litigation and lawyers becoming billionaires.
Wow! How refreshingly un-Western is Baba Beijing's response to the crisis. A bottom line for the people and not for Wall Street and the Fortune 500. China's leaders are hands-on, engaged and results oriented. In the West, the White House, Downing Street, Elysée Palace, Congress, Parliament, Chambre des Députés, and their equivalents across Eurangloland, Japan, South Korea, et al., are bought like stocks and bonds, via legal and illegal bribery, extortion, blackmail and the elites who own them expect a very profitable return on their investment. Corrupt elites, which is a tautology in the West, don't go to jail very often, only maybe paying a nominal fine, while never having to say they are sorry. They are different, a superior race to you and me.
Why are China's two top leaders coming out swinging about this scandal? Because their citizens are outraged and demand action. China has about 20 social media platforms, but on Wechat alone, the biggest, the word "vaccine" increased 80 times overnight, with 321 million articles and searches. That's the equivalent of one-fourth the country's population, in one day!
Pictured above, Chinese President Xi Jinping, on the left and Premier Li Keqiang, on the right looking out for their citizens' interests, kicking butt and taking names. Unlike Western leaders, they are not for sale.
Unlike Western corporate and government do-badders, those involved here in China have already publicly apologized. But, like 2008's melamine scandal, that won't be enough. I can promise you that the guilty are going to be spending years behind bars and if it can be shown that children died as a result of those faulty vaccines, then bullets in the back of some heads will also be forthcoming. You can take that to the crematorium. The public has spoken: they are shocked, pissed off, feel betrayed (vaccines are government mandated), they want justice and to get this problem solved YESTERDAY!
All of this clearly confirms that China has the most vibrant, responsive, participatory and successful democracy on Earth. Here are two articles I wrote recently to further demonstrate this reality (http://chinarising.puntopress.com/2018/01/20/headlines-say-it-all-baba-beijings-vision-leads-its-citizens-into-the-21st-century-china-rising-radio-sinoland-180121/ and http://chinarising.puntopress.com/2018/03/24/west-attacks-chinas-social-credit-system-to-deflect-from-its-fascist-panopticon-china-rising-radio-sinoland-180325/).
I can say with confidence, based on years of  working here, carefully observing and analyzing how Chinese society and governance function, while talking to thousands of citizens in the process, that I live in the most democratic country on Planet Earth, bar none.
Here's my bottom line: the West not only has fake news. It also has fake democracy. Nothing has changed since the Roman empire. Time to take the little red pill and step out of the matrix (http://chinarising.puntopress.com/2018/06/03/tall-tiananmen-tales-and-the-little-red-pill-a-china-rising-radio-sinoland-classic-for-this-june-4th-180604/).
---
If you find China Rising Radio Sinoland's work useful and appreciate its quality, please consider making a donation. Money is spent to pay for Internet costs, maintenance, the upgrade of our computer network, and development of the site.
---
Why and How China works: With a Mirror to Our Own History

---
ABOUT JEFF BROWN
JEFF J. BROWN, Senior Editor & China Correspondent, Dispatch from Beijing
Jeff J. Brown is a geopolitical analyst, journalist, lecturer and the author of The China Trilogy. It consists of 44 Days Backpacking in China – The Middle Kingdom in the 21st Century, with the United States, Europe and the Fate of the World in Its Looking Glass (2013); Punto Press released China Rising – Capitalist Roads, Socialist Destinations (2016); and for Badak Merah, Jeff authored China Is Communist, Dammit! – Dawn of the Red Dynasty (2017). As well, he published a textbook, Doctor WriteRead's Treasure Trove to Great English (2015). Jeff is a Senior Editor & China Correspondent for The Greanville Post, where he keeps a column, Dispatch from Beijing and is a Global Opinion Leader at 21st Century. He also writes a column for The Saker, called the Moscow-Beijing Express. Jeff writes, interviews and podcasts on his own program, China Rising Radio Sinoland, which is also available on YouTube, Stitcher Radio, iTunes, Ivoox and RUvid. Guests have included Ramsey Clark, James Bradley, Moti Nissani, Godfree Roberts, Hiroyuki Hamada, The Saker and many others.

In China, he has been a speaker at TEDx, the Bookworm and Capital M Literary Festivals, the Hutong, as well as being featured in an 18-part series of interviews on Radio Beijing AM774, with former BBC journalist, Bruce Connolly. He has guest lectured at Beijing Academy of Social Sciences (BASS), as well as in various international schools and universities. He has been a guest on radio and television programs, like Press TV, The Daily Coin, Truth Jihad, Wall St. for Main St., KFCF FM88.1 and Crush the Street.
Jeff can be reached at China Rising, jeff@brownlanglois.com, Facebook, Twitter, Wechat (Jeff_Brown-44_Days) and Whatsapp: +86-13823544196.
---
For Jeff J Brown's Books, Radio Sinoland & social media outlets

Podcast: Play in new window | Download
Subscribe: RSS