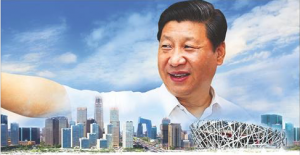 ---
By Jeff J. Brown
Pictured above:A Chinese propaganda poster during the Korean War. It blares, "American Imperialism, get out of South Korea". Up top, it says, "Korea's 3,000-mile Jiangshan must be unified", harking back to a 16th century war to drive Japan out of Korea. The Ming armies won back then. Unfortunately, the peninsula is again occupied by imperial forces, 500 years later.
Downloadable SoundCloud podcast (also at the bottom of this page), YouTube video, as well as being syndicated on iTunes, Stitcher Radio, RUvid and Ivoox (links below),




[dropcap] O [/dropcap]n June 25, 2018, the Bioweapon Truth Commission (BWTC) was launched, symbolically on this date, since on that day in 1950, the Korean War started. The BWTC is a very important resource, so take a look at its massive, free Global Online Library, full of videos, audio, books and articles (www.bioweapontruth.com).
July 27th. 2018 was the 65th anniversary of the ceasefire in Korea. The United States and its lackeys in NATO, Japan and South Korea are still at war with the North, officially named the Democratic People's Republic of Korea (DPRK). Eurangloland has refused to sign a peace treaty for two generations, so it can justify occupying South Korea, keeping 30,000 troops on China's and Russia's flanks, along with nuclear missiles right off their coasts, in submarines.
The West wants you to believe that it is "The Forgotten War" for a reason. First, the West got its butt whipped by communists from DPRK, China and the USSR. Second, the West committed some of the most heinous crimes against humanity, in human history, including the grotesque use of germ bombs, in hopes of killing even millions more communists.
Don't take it from me. Here are direct quotes from two of the 20th century's biggest megalomaniac psychopaths, this thanks to Stephen Gowan's new book (https://zeroanthropology.net/2018/07/04/book-review-patriots-traitors-and-empires-the-story-of-koreas-struggle-for-freedom-by-stephen-gowans/):
Generals Douglas MacArthur and Curtis LeMay, also testified to the horrors that they themselves had unleashed on Korea. Testifying in May of 1951 to the Senate Armed Services and Foreign Relations committees, MacArthur stated the following:
"The war in Korea has already almost destroyed that nation of 20,000,000 people. I have never seen such devastation. I have seen, I guess, as much blood and disaster as any living man, and it just curdled my stomach, the last time I was there. After I looked at that wreckage and those thousands of women and children and everything, I vomited….If you go on indefinitely, you are perpetuating a slaughter such as I have never heard of in the history of mankind".
(In a sense, MacArthur was speaking in the mode of American humanitarian imperialism—if nuclear weapons were dropped on China, that would "save" Koreans more of the horrors that Americans had themselves wrought. This is the classic formulation of killing to "save" lives. However, in the process of making this argument, MacArthur confesses to having committed the atrocities above.)
General LeMay, for his part, made the following statement:
"So we went over there and fought the war and eventually burned down every town in North Korea anyway, some way or another, and some in South Korea, too. We even burned down Pusan—an accident, but we burned it down anyway. The Marines started a battle down there with no enemy in sight. Over a period of three years or so, we killed off—what—twenty percent of the population of Korea as direct casualties of war, or from starvation and exposure?" (Strategic Air Warfare, p. 88)
No wonder Eurangloland wants to live in a fog of propaganda amnesia. But the BTWC has been created to make sure that you can learn what is really happening, since the West is still producing massive amounts of germ weapons, testing them and using them.
The evidence is everywhere you look, but you have to step outside the Great Western Firewall to see it. Andre Vltchek traveled to DPRK and produced a beautiful and moving 25-minute video about the North, which you can watch below. Those are real people, with real lives, living north of the 38th parallel, although you are brainwashed otherwise with Eurangloland's withering CIA-MI6-DGSE-BND orchestrated mainstream media.

In your continued search for the truth, below is my extensive journalism about the Korean Peninsula, based on years of research and considering the Chinese perspective. Thereafter are some great articles by other writers who are not afraid to stand up to Western Big Lie propaganda.
Jeff's journalism about Korea
http://chinarising.puntopress.com/2016/02/07/jeff-j-brown-on-press-tv-north-korean-satellite-launch-concerns-16-2-7/
http://chinarising.puntopress.com/2016/04/29/jeff-j-brown-china-rising-radio-sinoland-on-press-tv-north-korea-china-russia-16-4-30/
http://chinarising.puntopress.com/2016/05/03/us-china-tensions-mounting-dangerously-jeff-j-brown-with-press-tvs-on-the-news-line-show-16-5-3/
http://chinarising.puntopress.com/2016/07/08/south-korea-is-an-american-colony-china-rising-radio-sinolands-jeff-j-brown-on-press-tv-160708/
http://chinarising.puntopress.com/2016/11/21/korea-is-an-occupied-divided-dysfunctional-state-jeff-j-brown-on-press-tv-for-china-rising-radio-sinoland-161121/
http://chinarising.puntopress.com/2017/02/13/north-koreas-ballistic-missile-launch-does-it-really-have-any-other-choice-jeff-j-brown-on-press-tv-170214/
http://www.greanvillepost.com/2017/03/19/china-north-korea-and-the-upcoming-international-sanctions-china-rising/
http://chinarising.puntopress.com/2017/04/15/the-xi-trump-kim-waltz-is-twirling-across-the-historical-geopolitical-dance-floor-china-rising-radio-sinoland-170415/
http://chinarising.puntopress.com/2017/04/18/do-trump-co-know-china-and-north-korea-have-a-mutual-defense-treaty-china-rising-radio-sinoland-140418/
http://chinarising.puntopress.com/2017/07/29/americas-big-lie-about-bioweapon-crimes-in-korea-tom-powell-on-china-rising-radio-sinoland-170729/
http://chinarising.puntopress.com/2017/08/19/japan-admits-bio-and-chemical-weapons-use-in-wwii-when-will-the-us-come-clean-china-rising-radio-sinoland-170819/
http://chinarising.puntopress.com/2017/08/28/why-dprk-will-n-e-v-e-r-stop-its-nuclear-arms-program-china-rising-radio-sinoland-170828/
http://chinarising.puntopress.com/2018/03/26/breaking-news-dprk-leader-kim-jong-un-is-in-beijing-china-rising-radio-sinoland-180327/
http://chinarising.puntopress.com/2018/03/28/breaking-news-xi-kim-photos-you-wont-see-much-behind-the-great-western-firewall-china-rising-radio-sinoland-180328/
http://chinarising.puntopress.com/2018/04/28/korean-people-want-peace-and-reunification-uncle-sam-does-not-china-rising-radio-sinoland-180428/
Other articles about Korea:
http://www.unz.com/ishamir/kims-double-breasted-jacket/
http://www.voltairenet.org/article190705.html
http://www.voltairenet.org/article190923.html
http://journal-neo.org/2016/07/15/new-sanctions-on-north-korea-an-act-of-war-by-any-measure-2/
https://www.rt.com/op-edge/dprk-human-rights-report-un-834/
http://journal-neo.org/2017/03/10/korean-crisis-ahead-a-growing-tinderbox-in-the-south/
http://www.greanvillepost.com/2017/05/26/the-dirty-secret-of-the-korean-war/
http://dx.doi.org/10.1080/08854300.2016.1265859
https://zeroanthropology.net/2018/07/04/book-review-patriots-traitors-and-empires-the-story-of-koreas-struggle-for-freedom-by-stephen-gowans/
---
If you find China Rising Radio Sinoland's work useful and appreciate its quality, please consider making a donation. Money is spent to pay for Internet costs, maintenance, the upgrade of our computer network, and development of the site.
---
Why and How China works: With a Mirror to Our Own History

---
ABOUT JEFF BROWN
JEFF J. BROWN, Senior Editor & China Correspondent, Dispatch from Beijing
Jeff J. Brown is a geopolitical analyst, journalist, lecturer and the author of The China Trilogy. It consists of 44 Days Backpacking in China – The Middle Kingdom in the 21st Century, with the United States, Europe and the Fate of the World in Its Looking Glass (2013); Punto Press released China Rising – Capitalist Roads, Socialist Destinations (2016); and for Badak Merah, Jeff authored China Is Communist, Dammit! – Dawn of the Red Dynasty (2017). As well, he published a textbook, Doctor WriteRead's Treasure Trove to Great English (2015). Jeff is a Senior Editor & China Correspondent for The Greanville Post, where he keeps a column, Dispatch from Beijing and is a Global Opinion Leader at 21st Century. He also writes a column for The Saker, called the Moscow-Beijing Express. Jeff writes, interviews and podcasts on his own program, China Rising Radio Sinoland, which is also available on YouTube, Stitcher Radio, iTunes, Ivoox and RUvid. Guests have included Ramsey Clark, James Bradley, Moti Nissani, Godfree Roberts, Hiroyuki Hamada, The Saker and many others.

In China, he has been a speaker at TEDx, the Bookworm and Capital M Literary Festivals, the Hutong, as well as being featured in an 18-part series of interviews on Radio Beijing AM774, with former BBC journalist, Bruce Connolly. He has guest lectured at Beijing Academy of Social Sciences (BASS), as well as in various international schools and universities. He has been a guest on radio and television programs, like Press TV, The Daily Coin, Truth Jihad, Wall St. for Main St., KFCF FM88.1 and Crush the Street.
Jeff can be reached at China Rising, jeff@brownlanglois.com, Facebook, Twitter, Wechat (Jeff_Brown-44_Days) and Whatsapp: +86-13823544196.
---
For Jeff J Brown's Books, Radio Sinoland & social media outlets

Podcast: Play in new window | Download
Subscribe: RSS