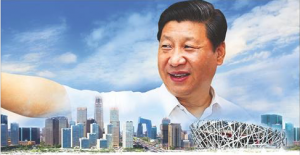 ---
By Jeff J. Brown
Nice view above of Shenzhen, from one of its many mountain parks. Everything you see here did not exist in 1980. Shenzhen is a super place to live and work, and a great lens to observe China's history breaking evolution – past, present and future.
Downloadable SoundCloud podcast (also at the bottom of this page), as well as being syndicated on iTunes and Stitcher Radio (links below):
[dropcap]D[/dropcap]r. Godfree Roberts started seeing China's development in 1967, something very few Westerners can claim, and since then, he has been in China many times and many different areas. This last weekend he visited "my town", Shenzhen, a new city of 14 million people, created from the ground up, which is an appropriate bookend to his first visit 50 years ago.
So, I asked Godfree,
How would you tie it all together, the path China has been taking since liberation in 1949 and continues to do so into the 21st century, with Shenzhen as your last signpost?
This short interview is revealing and informative. In the meantime, Dr. Roberts is wrapping up his upcoming book, China 2020 – Everything You Know Is Wrong, which is expected to hit the markets next year.
Note: Before today, Godfree has been guest a record seven times on my radio show, and there is a reason why. Every time he comes on is like a breath of fresh air and a big, contented smile. Herewith is the list. Take the time to listen to them all. You will be glad you did:
---
Shenzhen's eye-catching Municipal Building, which includes the city's fabulous main museum. China constructs many concept buildings and this one represents an ancient mandarin's hat. This photo was taken from Lotus Mountain Park, where a large statue of Deng Xiaoping is placed, a revered figure in Shenzhen's modern history. Keep pinching yourself. This was rural farmland less than two generations ago.
When we lived in China, 1990-1997, going to Hong Kong was like an exotic, consumer fantasy land, being so different from the Mainland at that time. Back then, Shenzhen was still a helter-skelter construction site and a hard-around-the-edges provincial backwater. No longer. Now, Hongkongers look enviously north, as Shenzhen has leapfrogged them, to become what I call the San Jose, California of China. See that spoon-shaped highway that terminates right above the "H" in Hong Kong? My wife and I live just north of there.

China's leaders (whom I wryly call "Baba Beijing") are the best in the world for delivering on promises made to their citizens. Their mantra is a simple one, proclaimed by Mao Zedong in 1949: "Serve the People". Another reason is their tremendous vision, mapping out plans five, 10, 20, even 50 years into the future. Pictured above is a futuristic look at what Baba Beijing envisions Shenzhen will look like, heading into the 22nd century. Can't wait to see it unfold in real time.
If you find China Rising Radio Sinoland's work useful and appreciate its quality, please consider making a donation. Money is spent to pay for Internet costs, maintenance, the upgrade of our computer network, and development of the site.
Or better yet, buy one of Jeff's books offered below.
---
Why and How China works: With a Mirror to Our Own History
---
ABOUT JEFF BROWN
JEFF J. BROWN, Senior Editor & China Correspondent,  Dispatch from Beijing
Jeff J. Brown is a geopolitical analyst, journalist, lecturer and the author of The China Trilogy. It consists of 44 Days Backpacking in China – The Middle Kingdom in the 21st Century, with the United States, Europe and the Fate of the World in Its Looking Glass (2013); Punto Press released China Rising – Capitalist Roads, Socialist Destinations (2016); and for Badak Merah, Jeff authored China Is Communist, Dammit! – Dawn of the Red Dynasty (2017). As well, he published a textbook, Doctor WriteRead's Treasure Trove to Great English (2015). He is also currently penning an historical fiction, Red Letters – The Diaries of Xi Jinping, to be published in late 2018. Jeff is a Senior Editor & China Correspondent for The Greanville Post, where he keeps a column, Dispatch from Beijing. He also writes a column for The Saker, called the Moscow-Beijing Express. Jeff interviews and podcasts on his own program, China Rising Radio Sinoland, which is also available on SoundCloud, YouTube, Stitcher Radio and iTunes.
Jeff can be reached at China Rising, jeff@brownlanglois.com, Facebook, Twitter and Wechat/Whatsapp: +86-13823544196.
---
For Jeff J Brown's Books, Radio Sinoland & social media outlets

Podcast: Play in new window | Download