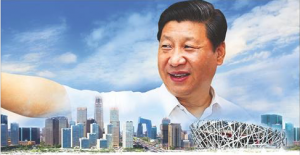 ---
By Jeff J. Brown
Downloadable SoundCloud podcast (also at the bottom of this page), as well as being syndicated on iTunes and Stitcher Radio (links below):
[dropcap]O[/dropcap]ver the one-week Chinese National Day holiday, September 30-October 8 (
http://chinarising.puntopress.com/2017/10/01/chinas-communist-liberation-on-october-1st-1949-changed-the-world-forever-china-rising-radio-sinoland-171001/
), my wife and I went to the Province of Yunnan, 1,800km east of Shenzhen, in Guangdong Province, where we live. We went to a county called Xishuangbanna, which hugs the Laos-Myanmar border (
http://chinarising.puntopress.com/2015/05/17/the-cia-is-dropping-burmese-bombs-on-china-44-days-radio-sinoland-15-5-17/
), and through which runs the Mekong River, of colonial French and American War fame. Further south in Laos, Cambodia and Vietnam, millions of local cadavers were thrown into the Mekong, to eventually drift into the South China Sea, as a result of a century of Franco-American genocides and exterminations. May their savaged and raped souls rest in peace.
Xishuangbanna is famous for the Dai minority people, who dominate the culture and daily life there. Dai script is side by side with Mandarin, everywhere you go and the local radio is full of Dai music and news. This is the famous place in China where the Dai have their annual Water Splash Festival, to usher in their New Year (http://www.chinadaily.com.cn/m/yunnan/2010-07/27/content_13088131.htm). We went to a Dai Cultural Village, about 30km outside Jinghong, the capital of Xishuangbanna, where visitors can watch a Water Splash ceremony, and even participate if they want. The whole place is lovely, relaxed and everyone who joined in had a great time getting soaking wet, while we filmed them.
The park had several thousand visitors when we were there. There were the obligatory local police to keep an eye on things. A Chinese cop is a window into the culture and society here, as is one in the United States.
All of the police officers were dressed alike. They were wearing flat footed, open sandals, like laid back hippies. They were relaxed, chatting with each other, friendly and courteous to all of us. I decided to ask one of them what they were carrying on their service belts. Officer Lin, pictured with me above, had the standard issue pack for the vast majority of police officers, not just in Xishuangbanna, but the whole country. Lin was carrying,
1 pair of handcuffs
1 small can of mace
1 walkie talkie
1 flashlight
1 incident report journal and pen
In other words, Chinese cops are prepared to, if necessary, immobilize a drunk guy with a shot of mace, handcuff the "perp" and call their buddies for help. In more crowded public places, a local cop might carry a billy club or blackjack. In more sensitive areas, where the authorities are worried about Western backed terrorists or instigators, cops may carry a pistol, but it is the exception to the rule. Only rarely will you see machine guns. When this happens, we assume Baba Beijing got intelligence that Uncle Sam's trained bomber boys might be looking for trouble, and they are taking no chances. I wrote about this in my first book, 44 Days Backpacking in China- The Middle Kingdom in the 21st Century, with the United States, Europe and the Fate of the World in Its Looking Glass (https://ganxy.com/i/88276/jeff-j-brown/44-days-backpacking-in-china-the-middle-kingdom-in-the-21st-century-with-the-united-states-europe-and-the-fate-of-the-world-in-its-looking-glass).
Trigger fingers at the ready. Every day is a great day in America, for the militarized, fascist police to terrorize and kill the masses. Will they gun down another 1,000 in 2017? I was scared shitless to be back in the US this summer.
Now, compare Officer Lin to the United States, especially, and more and more in Western Europe. Full military battle gear on Main Street is the norm, with high impact helmets, bullet proof everything, automatic weapons out the yazoo, taser kits, steel toed jackboots, gas masks, cans of mace the size of pesticide bombs, tear gas- and stun canisters, riding around in armored personnel carriers, and on and on (https://www.zmescience.com/science/news-science/half-police-killings-undocumented-043242/).
Does this tell us something about the two societies? Is it a reflection on the governments' trust in their peoples? Do the Chinese think differently about each other, compared to Westerners' attitudes about their fellow citizens? The Chinese are the most trusting of each other in the world, as a Pew Trust survey indicates (http://www.pewglobal.org/2008/04/15/where-trust-is-high-crime-and-corruption-are-low/). If anything, I would predict that this trust is higher in China today, and lower in the West, especially in America.
We feel very safe everywhere in China, anytime of day. Our young daughter is going to university in Beijing. She can walk down the "mean streets" of the nation's capital, 23-million strong, late at night, and not be worried about rape or assault. Ditto the metro, buses and taxis. When we were in the United States this summer, we thanked our lucky stars every day we did not get pulled over by a "law enforcement" officer, to avoid getting beaten up, shot or killed (http://chinarising.puntopress.com/2017/08/26/china-is-the-most-plugged-in-big-economy-in-the-world-china-rising-radio-sinoland-170824/).

This scene looks like it's right out of the movies 1984, or V for Vendetta, but it's not. It's just another day in fascist, police state America, sad to say, and only getting worse. I suspect the next time I go back with be for my mother's funeral, not a day sooner.
We were so relieved to come back to China, where we know the socialist government and leaders are really concerned about the people's wellbeing and work 24/7 to gain their trust. The violent, dog-eat-dog capitalist jungle of American culture reflects just the opposite. China's Barney Fife cops mirror the previous society. America's robocops reflect the latter.
Barney Fife, the humanitarian, empathetic police officer played by actor Don Knotts, on the long-running TV comedy sitcom, "The Andy Griffith Show". Or is that Officer Lin, in China? Come to think of it, they are hard to tell apart.
[DO NOT ENTER ANY POST/ARTICLE MATERIALS BELOW THIS LINE]
---
If you find China Rising Radio Sinoland's work useful and appreciate its quality, please consider making a donation. Money is spent to pay for Internet costs, maintenance, the upgrade of our computer network, and development of the site.
Or better yet, buy one of Jeff's books offered below.
---
Why and How China works: With a Mirror to Our Own History
---
ABOUT JEFF BROWN
JEFF J. BROWN, Senior Editor & China Correspondent,  Dispatch from Beijing
Jeff J. Brown is a geopolitical analyst, journalist, lecturer and the author of The China Trilogy. It consists of 44 Days Backpacking in China – The Middle Kingdom in the 21st Century, with the United States, Europe and the Fate of the World in Its Looking Glass (2013); Punto Press released China Rising – Capitalist Roads, Socialist Destinations (2016); and for Badak Merah, Jeff authored China Is Communist, Dammit! – Dawn of the Red Dynasty (2017). As well, he published a textbook, Doctor WriteRead's Treasure Trove to Great English (2015). He is also currently penning an historical fiction, Red Letters – The Diaries of Xi Jinping, to be published in late 2018. Jeff is a Senior Editor & China Correspondent for The Greanville Post, where he keeps a column, Dispatch from Beijing. He also writes a column for The Saker, called the Moscow-Beijing Express. Jeff interviews and podcasts on his own program, China Rising Radio Sinoland, which is also available on SoundCloud, YouTube, Stitcher Radio and iTunes.
Jeff can be reached at China Rising, jeff@brownlanglois.com, Facebook, Twitter and Wechat/Whatsapp: +86-13823544196.
---
For Jeff J Brown's Books, Radio Sinoland & social media outlets

Podcast: Play in new window | Download